---
Eclectic East Coast Quintet brings Exotic Instrumentals to the Golden State
---
A Melange of Tchaikovsky, Tanburs, Tiki Torches,
and Tone Poems Will Sound in California
Mr. Ho's Orchestrotica Golden State Exotica Tour: Feb 17 – Feb 20
Global jazz and exotic chamber music quintet, Mr. Ho's Orchestrotica, heads west February 17th, 2016, for their inaugural California tour. The "evocative exotica" of the group (Boston Globe) will be heard over four subsequent evenings of concerts beginning in San Carlos and ending in San Pedro (Los Angeles).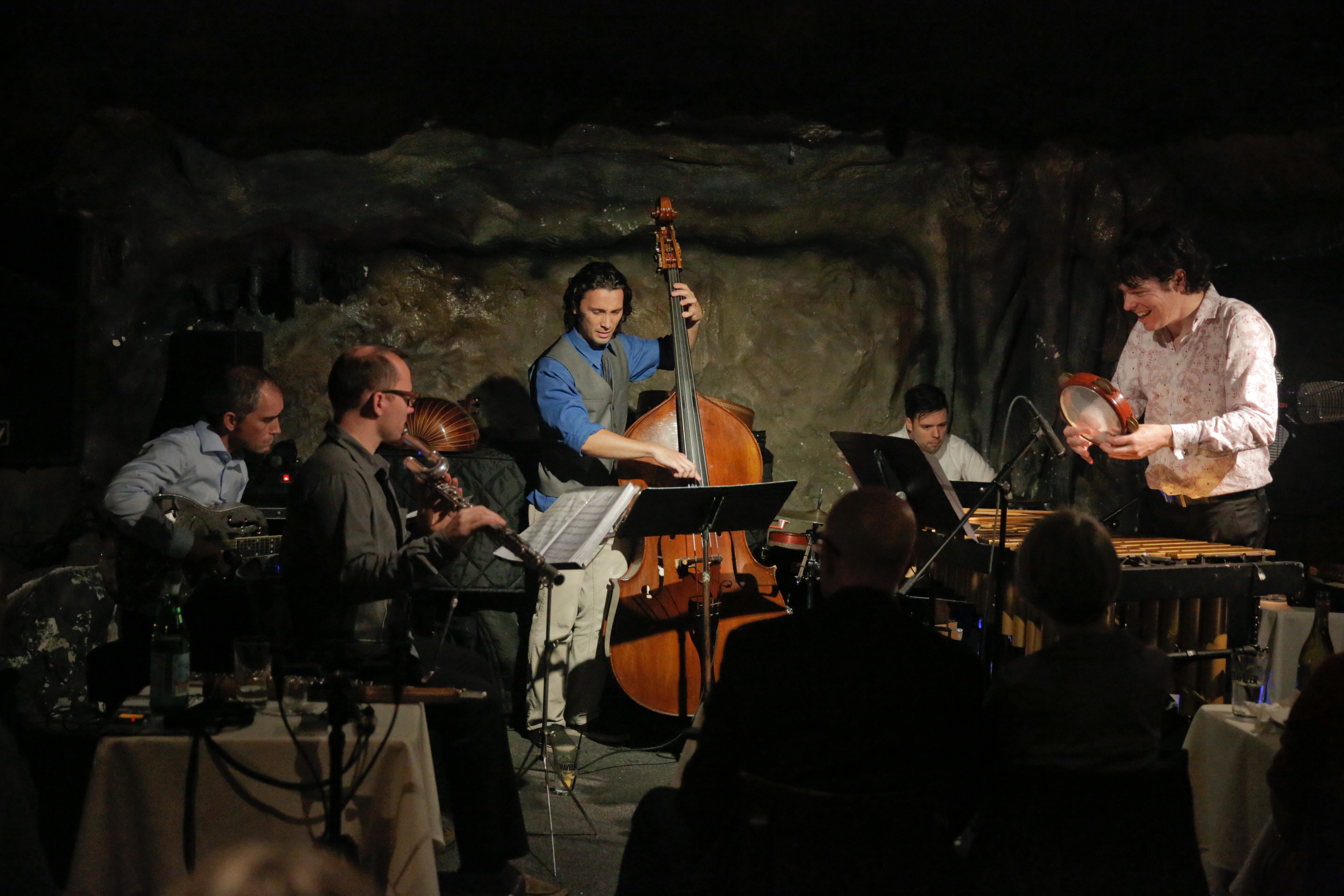 Wednesday, Feb. 17: San Carlos, CA 

Thursday, Feb. 18: San Francisco, CA

Friday, Feb. 19: San Diego, CA
"An Evening of Sensational Sounds w/ Mr. Ho's Orchestrotica"
8:00 PM – GA and VIP Tickets $20+

Saturday, Feb. 20: San Pedro, CA
8:00 PM * Tickets $18+
---
Led by "musical polymath" Mr. Ho aka Brian O'Neill (vibist, percussionist, artistic director), the quintet on this tour will feature the talents of Tev Stevig (oud, tanbur, resonator guitar), Brad Barrett (bass), Jeremy Smith (percussion), and Dr. Ela Brandys (bass flute, flute). The Orchestrotica's quintet formation, called "anything but straightforward" by the Washington Post, will perform a variety of recorded selections from it's acclaimed Exotica for Modern Living series that includes Third River Rangoon (2011) ("Top 10 for 2011"-Huffington Post) and Where Here Meets There (2013) ("Wonderful!"-Jazz Weekly). The eclectic ensemble's music has been featured on PRI's The World, WNYC's New Sounds, and was praised for it's "serious jazz and chamber music writing" by the Boston Herald. "…If John Zorn is an exotica Picasso, O'Neill is his Georges-Braque counterpart in cubism's transposition to music…as Braque may have been the finer cubist, O'Neill may be, in the long run, a stronger exoticist than Zorn," says Gordon Marshall from ALL ABOUT JAZZ.
"We're excited to finally get out west and bring something new to California listeners of creative instrumental music. " says O'Neill. "People always ask me what style of music the Orchestrotica plays and how we define it. I tell them that we're here to help listeners 'find an escape' within the precision of composed music, the ambiguity and freedom offered by jazz, and the many timbres afforded by global instruments and performance perspectives." The group is known for presenting accessible instrumental concerts and keeping the connection between the audience and musicians fun and friendly. It's also been praised for putting out extremely high-quality recordings, including a "9/10 for audio and music" from Michael Fremer of audiophile magazine Analog Planet.
Additional Background
Referencing the exotica of composers ranging from Tchaikovsky and Shostakovich to George Gershwin, Martin Denny, and John Adams, Mr. Ho's Orchestrotica-as a vibraphone quintet-performs global jazz and chamber music with world-music flavors sourced from Asia, the Middle East, the Balkans, and Latin America. The quintet focuses on original music written by O'Neill ("a first-rate composer"-Huffington Post) that is highly influenced by his fifteen-year career as a multi-percussionist in symphony orchestras, jazz groups, and world music ensembles.
Prior to releasing two albums as a quintet, O'Neill had conceived of a new series of recordings dubbed the Exotica for Modern Living series, and in 2010, the group released its first album. This debut recording ("4 stars…exquisite attention to details"-Sunday London Times) featured the band's alternate 22-pc big band formation and was entitled The Unforgettable Sounds of Esquivel. That album—which showcases O'Neill's impeccable transcriptions of the lost space-age pop music of one-time California resident Juan Garcia Esquivel—received "4 Stars" from the Sunday London Times and was called "incredible" byDownbeat.
"No other band on the planet sounds anything remotely like Mr. Ho's Orchestrotica," says Lucid Culture. 
Get on the mailing list
to get updates on their shows and events for both groups!
---